The Suncoast Reef Rovers were formed in February of 1997. The original purpose for creating this organization was to bring together possible dive buddies and promote local and semi-local diving opportunities. In May of 1999, the Suncoast Reef Rovers completed their first dive trip outside the USA with a week long excursion to Bonaire off the coast of Venezuela.
But besides simply becoming just another local dive organization, the Suncoast Reef Rovers quickly became involved in coastal stewardship. Seeking a means to provide positive community involvement, the Rovers contacted the Keep Sarasota Beautiful Organization. The Adopt-a-Highway Program had been a popular project for them, but the Suncoast Reef Rovers were the first to seek to adopt a pier. The idea met with enthusiasm and soon the Rovers were proposing the project
to Venice City officials. The City is responsible for the pier and their approval was a requirement. Then, early on a
Sunday morning, the 21st of June, 1998, twenty seven members of the Suncoast Reef Rovers completed their first
clean-up beneath the fishing pier.
In another community service effort, the Suncoast Reef Rovers perform a similar underwater clean-up along the rocks of the Venice Jetties. This has also become an annual project.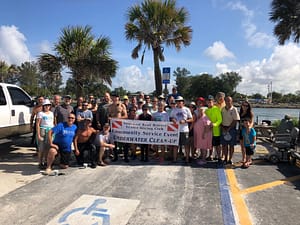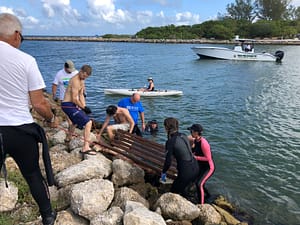 In 2001 the Suncoast Reef Rovers also began conducting quarterly clean-ups of Service Club Park in Venice as their latest adopted project. The area cleaned runs from the board walk south to the Venice Fishing Pier.
All of these clean-ups continue to this day. Please visit out Projects page for more information on how you can participate!
And remember, you do not have to be a diver to help out!
The Rovers are also proud to have adopted a manatee through the Save The Manatee Club program, as part of our ongoing community service initiatives.
The officers of the Suncoast Reef Rovers are very proud of our members who participate in these worthwhile projects to improve our environment. We seek to find other opportunities to blend our love of diving with improving our community.
If you are interested in becoming a Reef Rover, please see our membership instructions on the Join Us page.